Alabama vs. Florida live score, updates, highlights from 2020 SEC championship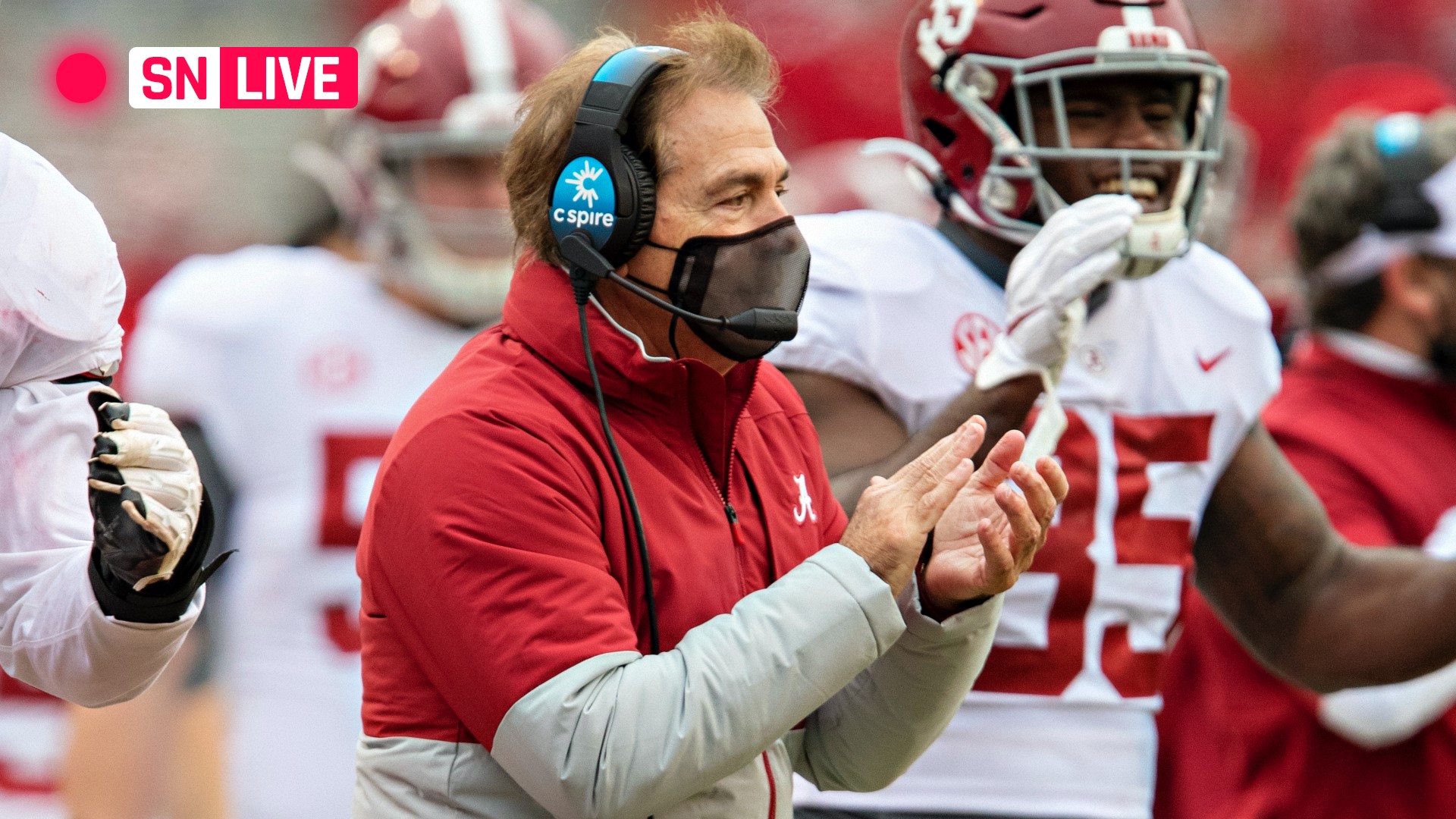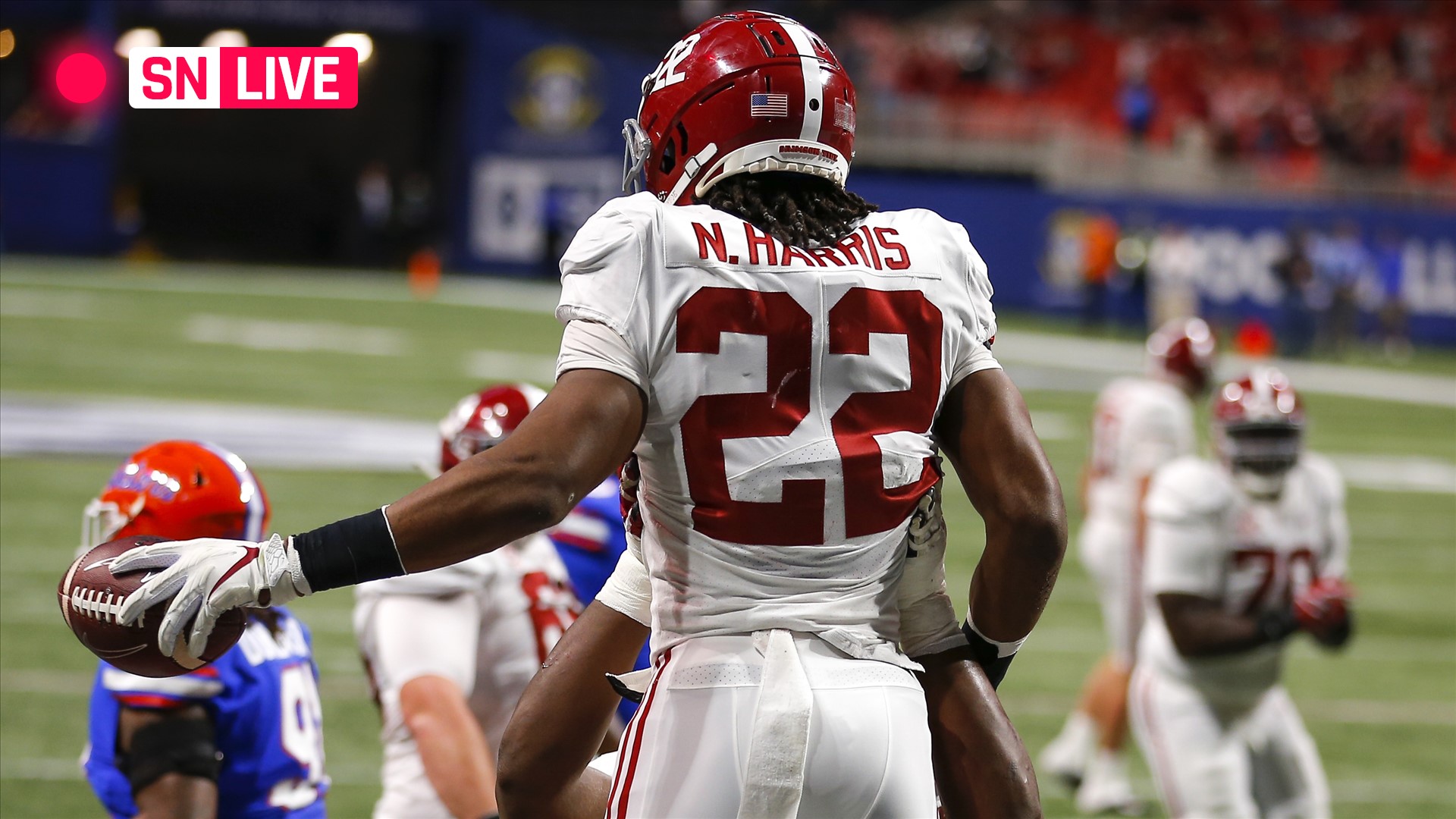 No. 7 Florida might have been caught looking ahead to Saturday night's SEC championship game against No. 1 Alabama when it lost to unranked LSU last weekend, an outcome that may have ended its College Football Playoff hopes regardless of its conference final result.
But that doesn't mean its showdown with the Crimson Tide will mean any less to a team that could still make it at least 10 wins in three straight seasons for the first time since the late 1990s. The Gators (8-2), who still believe they would be in the College Football Playoff with a victory, are also interested in playing spoiler to Alabama's bid at a perfect season. The Tide (10-0) last went unbeaten in 2009.
There are Heisman trophy contenders on both sidelines. Florida has record-breaking quarterback Kyle Trask and Alabama has the prolific combo of passer Mac Jones and receiver DeVonta Smith.
Alabama holds a streak of six consecutive wins over Florida.
Sporting News is tracking live scoring updates and highlights from Alabama vs. Florida. Follow for complete results from the 2020 SEC championship game.
MORE: Watch Alabama vs. Florida live with fuboTV (7-day free trial)
Alabama vs. Florida score
| | | | | | |
| --- | --- | --- | --- | --- | --- |
| | Q1 | Q2 | Q3 | Q4 | Total |
| Alabama | 14 | 21 | 0 | – | 35 |
| Florida | 10 | 7 | 14 | – | 31 |
Alabama vs. Florida live updates, highlights
10:54 p.m.: Jones makes a much-needed 20-yard completion to John Metchie. One play later, Harris hurdles his way for a first down of his own.
End of third quarter: Alabama 35, Florida 31
10:45 p.m.: TOUCHDOWN, Florida. Nay'Quan Wright pulls the Gators closer to Alabama. 35-31, Tide.
10:44 p.m.: Trask is making the QB draw work to his advantage today. It's been a key tool on third downs.
10:41 p.m.: Pitts and Grimes each make long catches, and Florida is at the Alabama 30.
10:37 p.m.: Fumble! But Florida recovers. What would have been a brutal giveaway inside its own 15 on a backfield strip turns into a non-issue.
10:36 p.m.: Alabama punts for a touchback.
10:33 p.m.: Smith is up to 145 receiving yards.
10:31 p.m.: Smith breaks wide open over the middle to push the Tide past the 50.
10:27 p.m.: Florida's drive stalls near midfield. The Gators do manage to pin Alabama at the 9 with their punt.
10:24 p.m.: Defensive pass interference is called against Tide linebacker Dylan Moses, who was forced to drop deep in coverage.
10:22 p.m.: Alabama keeps the offense on the field for fourth-and-three and doesn't pick up the first down. The Gators have come out of halftime hot.
10:13 p.m.: TOUCHDOWN, Florida. A letdown in the Alabama secondary aids a 50-yard touchdown catch by Trevon Grimes. 35-24, Tide.
10:10 p.m.: The second half is underway. Florida gets the ball.
9:52 p.m.: Jones threw for 267 yards and four touchdowns in that first half. Harris racked up 141 all-purpose yards and four touchdowns. Smith had eight catches for 113 yards and a score.
Halftime: Alabama 35, Florida 17
9:45 p.m.: TOUCHDOWN, Alabama. Harris gets his third receiving touchdown and fourth total touchdown of the first half. 35-17, Tide.
9:40 p.m.: With one minute remaining in the half, Alabama is trying to add to its lead rather than run out the clock.
9:37 p.m.: TOUCHDOWN, Florida. Trask pounds it in on the ground to give the Gators life. 28-17, Tide.
9:33 p.m.: Trask connects with Toney deep down the field. Florida needs a quick score.
9:30 p.m.: TOUCHDOWN, Alabama. Harris provides his second touchdown catch of the game, showing his versatility. 28-10, Tide.
9:26 p.m.: And now Alabama converts on fourth-and-inches with a bit of trickery. The snap went to Miller Forristall for a rush up the middle while Jones looked to the sideline feigning confusion in a bid to distract Florida.
9:18 p.m.: Florida had Brian Robinson Jr. stopped in the backfield on the third-and-short, but Robinson managed a second burst to move the chains. Poor tackling work from the Gators.
9:13 p.m.: Florida punts. If the Gators don't get a stop here, it's difficult to see them getting back into the game.
9:05 p.m.: TOUCHDOWN, Alabama. Harris spins a defender into oblivion on his way to the end zone. 21-10, Tide.
9:03 p.m.: Alabama enters the red zone.
End of first quarter: Alabama 14, Florida 10
8:53 p.m.: Alabama, looking relentless on offense, has quickly marched to midfield.
8:48 p.m.: FIELD GOAL, Florida. Apparent confusion for Florida before a third-and-9 snap leads to a QB draw that goes nowhere. The ensuing 40-yard kick is good. 14-10, Tide.
8:40 p.m.: TOUCHDOWN, Alabama. Smith adds to his impressive start with a touchdown catch. 14-7, Tide.
8:37 p.m.: Alabama gets a big break. Jones throws an interception on third down, but Trey Dean III fumbles the ball back to the Tide on his return attempt. Dean was slow to get up after the play.
8:32 p.m.: Smith looks like he's going to go for 150 yards tonight. He starts Alabama's second drive with a 24-yard snag.
8:28 p.m.: TOUCHDOWN, Florida. Trask lobs a deep throw to Kadarius Toney, hitting the speedster in stride for a 51-yard score. 7-7.
8:24 p.m.: Kyle Trask completes a tough pass in traffic to Kyle Pitts, the leading receiver for the Gators.
8:19 p.m.: TOUCHDOWN, Alabama. Najee Harris is too strong to bring down. His scoring run puts him ahead of Derrick Henry and Mark Ingram for the school rushing touchdown record at 43. 7-0, Tide.
8:18 p.m.: Smith stretches for a first down as he tumbles out of bounds following another catch.
8:13 p.m.: DeVonta Smith makes a 19-yard reception. Alabama is already in Florida territory.
8:11 p.m.: Alabama starts with the ball.
8:06 p.m.: The teams are on the field ahead of kickoff.
Alabama vs. Florida start time
Date: Saturday, Dec. 19
Kickoff: 8 p.m. ET
TV channel (national): CBS
Live stream: fuboTV
The 2020 SEC championship game between Alabama and Florida begins at 8 p.m. ET. It will be held in Mercedes-Benz Stadium in Atlanta.
College football schedule: Conference championship games
Saturday, Dec. 19
| | | | |
| --- | --- | --- | --- |
| Game | Matchup | Time (ET) | TV channel |
| Big 12 championship | No. 10 Oklahoma 27, No. 6 Iowa State 21 | Noon | ABC, fuboTV |
| Big Ten championship | No. 4 Ohio State 22, No. 14 Northwestern 10 | Noon | Fox, fuboTV |
| ACC championship | No. 2 Notre Dame vs. No. 3 Clemson | 4 p.m. | ABC, fuboTV |
| MWC championship | No. 24 San Jose State vs. Boise State | 4:15 p.m. | Fox, fuboTV |
| SEC championship | No. 1 Alabama vs. No. 7 Florida | 8 p.m. | CBS, fuboTV |
| AAC championship | No. 23 Tulsa vs. No. 9 Cincinnati | 8 p.m. | ABC, fuboTV |